Top 7 Benefits Of Coconut Oil
1. Stretch Marks
Stretch marks are a very common body issue that women go through when they hit puberty. Albeit, if you've never had stretch marks before, chances are that pregnancy will give it to you. Luckily, coconut oil enhances your skin's elasticity and boosts your skin's hydration.
2. Smoothes Fine Lines And Wrinkles
Formulated with skin-loving ingredients, coconut oil is packed with vitamins C and E, this moisturizer works charm on the fine lines and wrinkles, bidding farewell to skin aging, too. Coconut oil does it all, from hydrating the skin and maintaining or balancing pH levels to toning and strengthening the skin.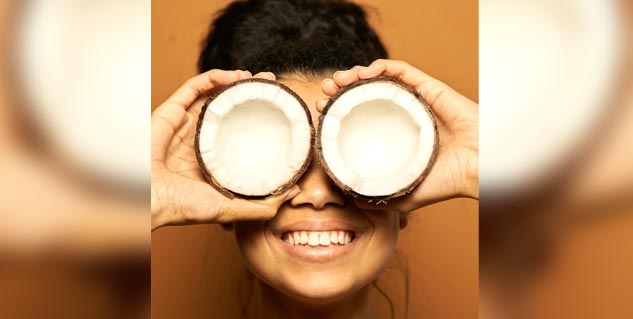 3. Tames Hair Frizz
Coconut oil has high content of vitamin E and you can never go wrong with it when it comes to hair and skin. Put some coconut oil generously on your scalp, running it through your hair. massage well and keep it on overnight. Wash it off the next day as you normally wash your hair. You'll be breathing new life to dull and damaged hair in no time. The antioxidants in the coconut oil will further protect hair from damage and breakage.
4. Moisturizing lips
Coconut oil is one of the best natural oils. It has moistening properties that helps the skin and even chapped lips to even and smooth out in no time. Infused with nourishing ingredients coconut oil promises to keep your lips protected and conditioned.
UV filters can help protect your hair from sun damage. It is found that coconut oil has a sun protection factor. Therefore, putting it on your hair and skin  could be very useful.
6. Make Mouth Healthier
In contrast with the popular belief, coconut oil also aids in a whiter and brighter smile. Swishing some coconut oil in your mouth for several minutes a day or maybe gargling every night before bed. may have benefits including whitening your teeth and preventing tooth decay, bleeding gums, and cracked lips.
7. Toenail Infections
Alongside many other benefits, coconut oil benefits not only our hair and skin but it also works wonders for our nails. Even at many salons, the people there use coconut oil to bring back your nail's life before pedicure. Simply pour a tablespoon of coconut oil on your toes, rub it in your nails and put a pair of socks on. Sleep on it overnight or remove the socks after an hour or two. you will feel smoother and full of life feet in no time.
If you use coconut oil in your daily routine on your body, hair and nails, then you are definitely taking advantage of these benefits somewhere or the other. However, do not go overboard with the usage of it since you know what they say, excess or anything is bad. If you feel irritated skin or scalp after the application, consult a dermatologist for help.