Former prime minister Imran Khan was deposed by a no-confidence vote in parliament on Sunday, days after he blocked a similar attempt. Pakistan Tehreek-e-Insaf's (PTI) supporters marched on to streets across the country, and overseas later that night to showcase their disappointment in Khan's removal.
Given the massive revolt against the current government, and the support for Khan, a clothing brand, Atelier Karma, decided to cash on public sentiments by bringing back a kurta that features digital prints of Khan's face. The clothing item was popular amongst PTI supporters back in 2018 when Khan was running for governor.
The apparel brand took to its social media handles to announce that they have begun pre-booking for the said kurtas. "Due to popular demand, we are bringing back the famous Karma IK Kurtas. Pre-book yours now!" read the caption of a picture that showcases a bunch of models, both men and women, wearing the IK printed kurta on a runway.
However, netizens are baffled by the exorbitant prices of Rs20,000 for the kurta and an additional Rs10,000 for the trouser. Since it's only open for pre-booking, the website does not mention any prices as of yet. But a user posted a reply they got when they approached the brand at a number mentioned in the caption.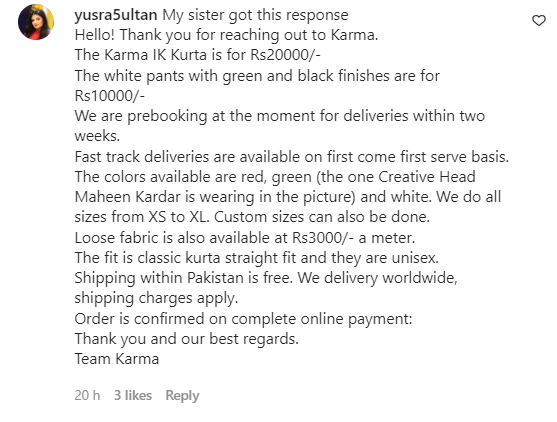 "Hello! Thank you for reaching out to Karma. The Karma IK Kurta is for Rs20,000. The white pants with green and black finishes are for Rs10,000. We are pre-booking at the moment for deliveries within two weeks. The colours available are red, green and white. We do all sizes from XS to XL. Custom sizes can also be done. Loose fabric is also available at Rs3,000 per metre. The fit is classic kurta straight fit and they are unisex," confirmed the message.
Have something to add to the story? Share it in the comments below.